Setelah Anda memiliki akses ke cPanel dari akun hosting Anda, maka Anda dapat mulai mengatur email secara default pada cPanel dengan langkah-langkah berikut :
Langkah 1: Buka Menu Default Address
Setelah login ke cPanel, silakan cari menu Default Address. Anda dapat melakukan pencarian melalui kolom search atau menemukannya secara manual pada kolom Email.

Langkah 2: Cara Setting Email Default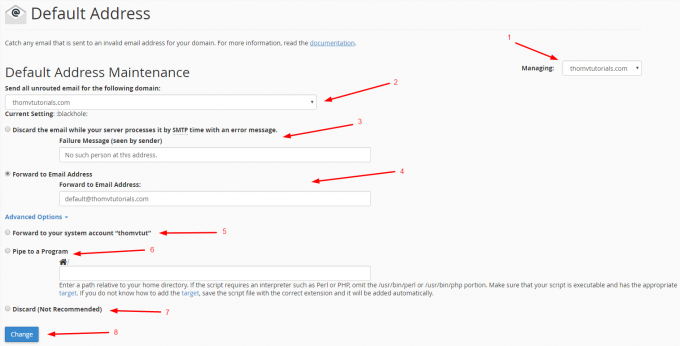 Setelah masuk ke menu Default Address, akan tampil halaman seperti yang terlihat pada gambar diatas. Lalu, lakukan langkah-langkah berikut:
Managing – Silakan pilih nama domain yang ingin Anda gunakan. Anda dapat memilih antara domain/sub-domain/add-on domain atau semua domain dengan memilih All Domains. Hal ini memungkinkan semua email, yang dikirim ke alamat email yang salah, masuk ke email default.
Send all unrouted email for the following domain – Silakan isi domain yang sama seperti nomor 1.
Discard the email while your server processes it by SMTP time with an error message – Pilihan ini memungkinkan Anda untuk menolak email masuk dan mengirimkan pesan balasan ke pengirim sesuai keinginan Anda pada kolom Failure Message. Pesan default di sini biasanya berisi: "No such person at this address."
Forward to Email Address – merupakan kolom yang wajib Anda isi. Di sini Anda harus memasukkan alamat email default untuk menerima email yang memiliki kesalahan alamat penulisan. Pada contoh ini kami menggunakan alamat email default@thomvtutorials.com.
Forward to your system account – Dengan menandai pilihan ini, Anda akan memforward email yang hilang ke sistem akun cPanel. Kami tidak menyarankan pilihan ini, karena kebanyakan penyedia layanan hosting tidak mengaktifkan fitur ini.
Pipe to a Program – Pilihan ini akan memforward email ke script Anda. Ini termasuk pengaturan lanjutan dan kami tidak menyarankan Anda untuk menggunakannya, terutama jika Anda masih awam.
Discard – Sebaiknya Anda tidak memilih pilihan ini karena akan menghapus semua email yang salah alamat, tanpa mengirimkan pesan pemberitahuan ke pengirim.
Apabila semua pengaturan sudah selesai, silakan klik tombol Change untuk menyimpan.
Maka, langkah-langkah diatas bisa dikatakan berhasil apabila muncul gambar seperti berikut :