Cara Membuat Hotlink Protection di Cpanel Hosting
Tri Wahyudi
Hotlink Protection merupakan fitur di cPanel untuk mencegah seseorang menampilkan content website anda (gambar, video, maupun file) pada website orang lain.
Gambar, Video maupun file anda akan di lindungi dengan hotlink protection.
Berikut adalah cara Membuat Hotlink Protection di Cpanel:
Silahkan login ke cpanel hosting anda
Silahkan pilih Hotlink Protection pada kolom Security

Atur konfigurasi Hotlink Protection sesuai kebutuhan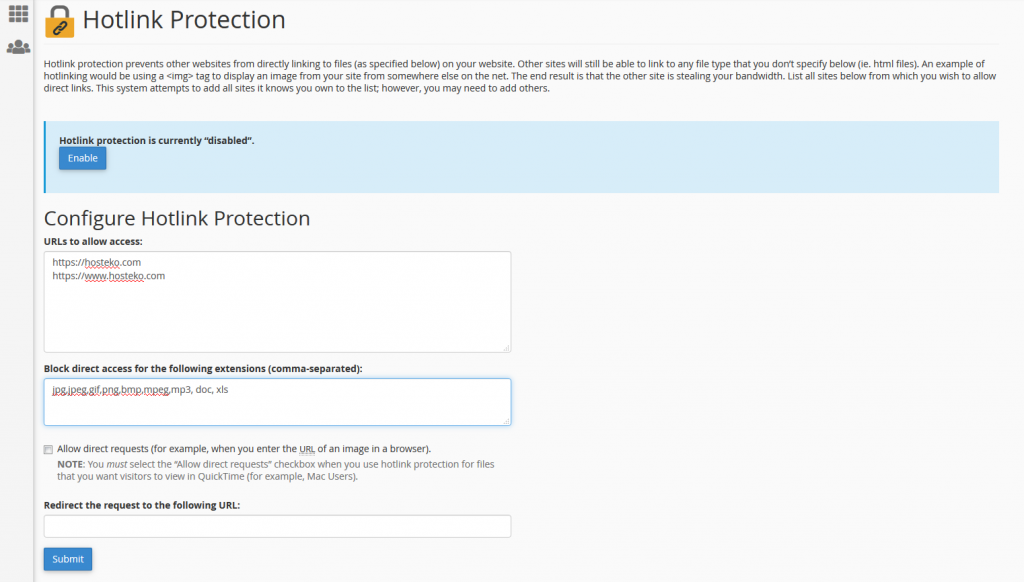 – URL to Allow Access, Berfungsi untuk memasukkan alamat-alamat website yang di ijinkan untuk mengambil content gambar, video ataupun file dari hosting anda. Jika anda hanya ingin tampil di website anda, silahkan biarkan saja, atau hanya masukkan alamat website anda saja.
– Block directory access for the following extentions, Ekstensi file apa saja yang akan anda lindungi.
– Silahkan centang pada Allow direct request, jika anda ingin mengijinkan URL gambar atau file dapat di akses langsung lewat browser.
– Redirect the request to the following URL, di gunakan jika ada orang yang menggunakan link gambar anda akan di arahkan ke URL website atau gambar yang anda setting.
Setelah semua di atur, anda dapat klik tombol SUBMIT