Cara Membuat Quiz Pada Moodle
Risa Y
1. Tahap Pertama, Setting Activity – Quiz
Login Moodle
Aktifkan Turn Editing On
Klik Add an Aktivity – Quiz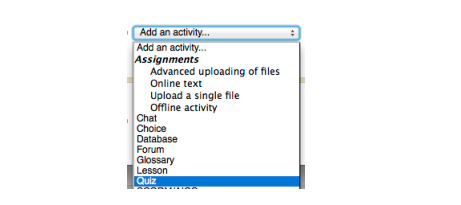 Isi Nama
Tentukan Timing kapan masa aktif dan waktu/Durasi Quis, misalnya Quis akan dilakukan pada Jam 09.00-10.00 dengan Durasi 30 Menit.

Setting Display tampilan 2 soal per halaman dengan urutan soal dan jawaban yang tampil diacak pada setiap user.

Jumlah Kesempatan Quis 1x dan tidak ada feedback pada saat mengerjakan soal.

Option yang perlu info setelah selesai Quiz.

Tampilan Windows pada saat Quiz Full Screen.

Selesai Setting.
Agar tampilan Quis tidak Nampak sebelum waktunya bias di hidden terlebih dahulu. Klik ikon mata.
2. Tahap Kedua, Membuat soal dengan Software Examview 6.2

Buat Soal Baru Klik New-Question Type (misal Multiple Choise)-OK.

Edit Soal pada bagian atas, masukkan alternative jawaban pada kotak dan tandai (klik) jawaban yang benar.

Klik Close, maka akan tampak pada dokumen.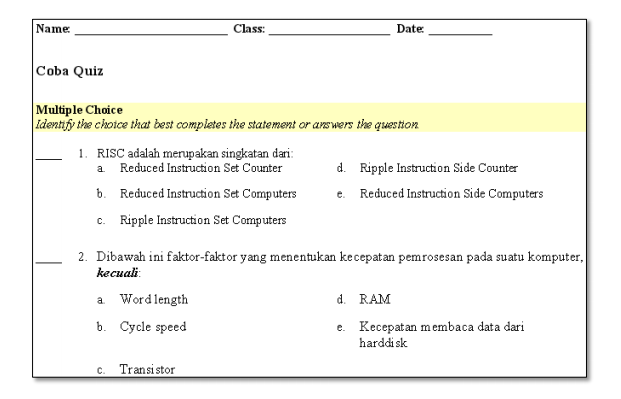 Simpan Dokumen, Klik File-Save-isikan "Coba Quis.tst"
Export Examview ke Backboard 6.0-7.0, Klik File-Export-blackboard 6.0-7.0-Isikan "Coba Quiz.zip". Isikan Pool Information Name: Coab Quiz. Isikan Directory: Quiz. Klik OK.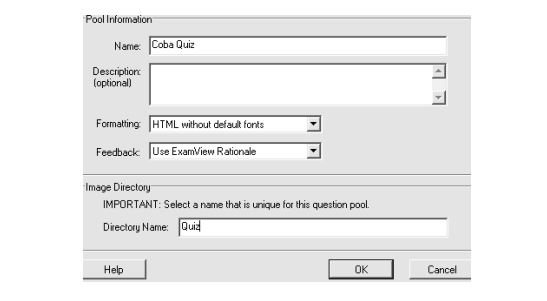 3. Tahap Ketiga, Mengimport file blackboard 6.0-7.0 ke Moodle
Unzip file hasil Examview Export "Coba Quiz.zip" file terdiri dari: imsmanifest.xml dan res00000.dat.
Aktifkan Turn Editing On
Klik Aktivitas "Coba Quiz"
Klik Import pada Tab Edit.
Pilih File Format : "Blacboard" (bukan Blackboard v+), hilangkan centang "Get category from file"
Upload file "res00000.dat" (hasil Export Examview), Klik Continue
Maka akan muncul pada Question bank

Klik "Quiz" pada Tab "Edit", Klik Soal yang akan dimasukkan pada activity "Coba Quiz", Klik "Add to Quiz".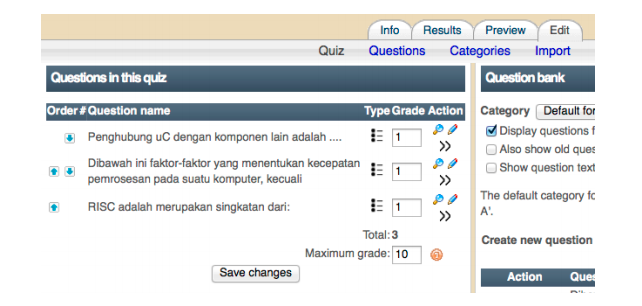 Klik Save Change.
Untuk melihat tampilan pada saat Quiz, klik tab "Preview".
Untuk mengerjakan soal berikutnya atau sebelumnya, Klik "Next/Prev".
Apabila Selesai menjawab seluruh soal, Klik "Submit all and Finish"
Untuk uji coba Quiz bisa digunakan login : "mhs1" password: "mahasiswa1". sebagai mahasiswa.