Memunculkan Kembali Tombol Fitur Underline dan Justify Pada WordPress 4.7 Ke Atas
Tri Wahyudi
Sejak release update wordpress versi 4.7 fitur underline dan justify di hilangkan oleh wordpress. sehingga banyak orang yang merasa kesulitan atau bingung jika ingin mengatur tulisan ingin bergaris bawah atau ingin membuat tulisan menjadi rata kanan kiri.
sebenarnya ada cara simple untuk mengatasi hal ini, anda dapat menggunakan shortcut. misal untuk underline/ tulisan bergaris bawah, anda dapat menggunakan tombol Ctrl + U, untuk tulisan rata kanan kiri, anda dapat menggunakan tombol Shift + Alt + J. Atau anda dapat klik tombol tanda (?) untuk melihat fitur shortcut yang lain. Yang jadi masalah disini, tidak semua orang tau fungsi tombol shortcut ini, karena kebiasaan tinggal klik tombol yang sudah ada.
Untuk mengatasi hal ini, anda tidak perlu khawatir, anda dapat menggunakan plugin tambahan untuk memunculkan tombol yang hilang tersebut kembali.
Berikut Memunculkan Kembali Tombol Fitur Underline dan Justify Pada WordPress 4.7 Ke Atas:
Silahkan login ke wordpress anda
silahkan cari dan install plugin: Re-add text underline and justify
Aktifkan plugin Re-add text underline and justify yang telah anda install.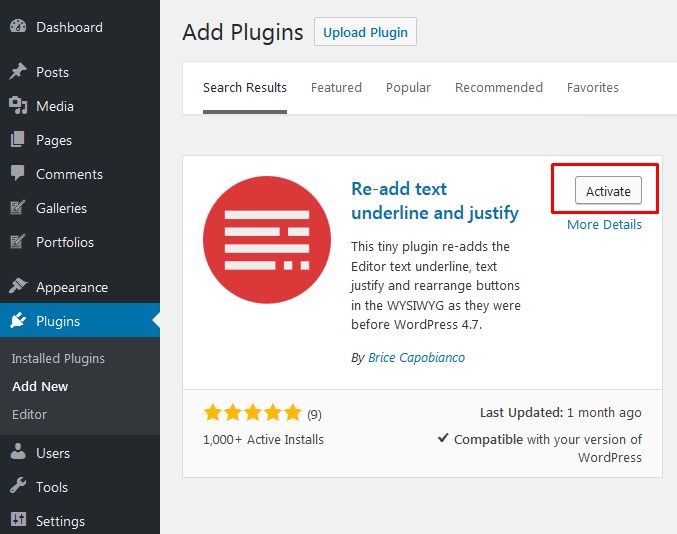 Setelah plugin anda install, anda perlu mengaktifkan tombol Underline dan Justify yang ingin anda munculkan dengan cara, silahkan klik menu Setting => Writing
Pada tampilan Writing setting akan muncul tampilan pengaturan Editor Style. Anda dapat memilih pilihan Re-add underline & justify buttons atau Re-add underline & justify + rearrange dan klik tombol SAVE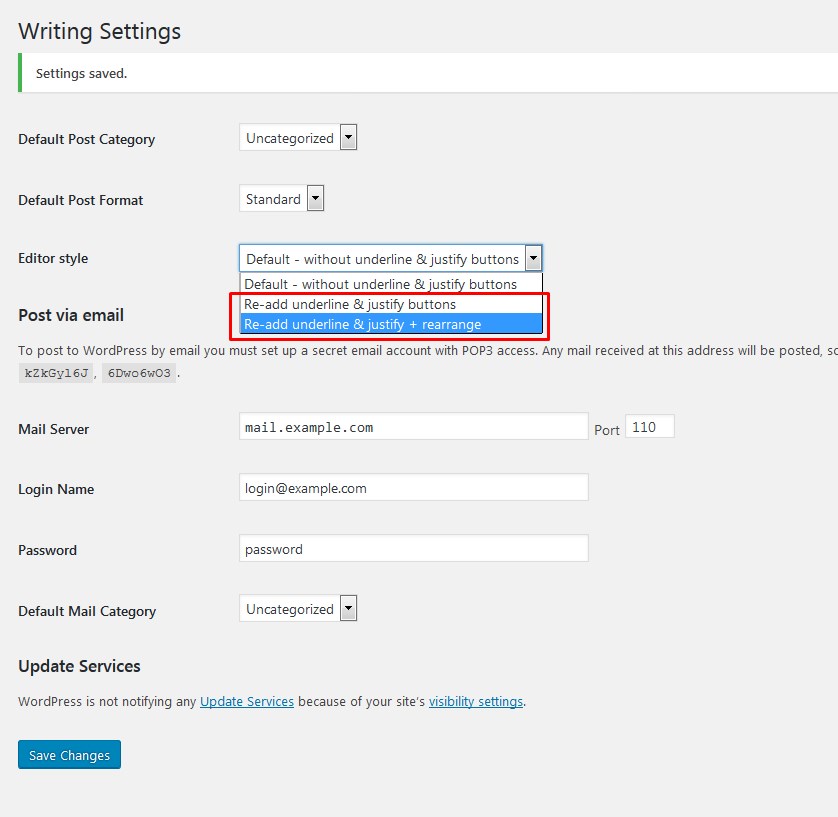 Silahkan coba buka halaman add post atau Add page, maka fitur tombol Underline dan Justify sudah muncul kembali.
Tambahan:
3 Tampilan Opsi editor style:
Default – without underline & justify buttons

Re-add underline & justify buttons

Re-add underline & justify + rearrange