Pengaturan dan Cara Membuat Users Pada Moodle
Risa Y
Pengaturan Users Moodle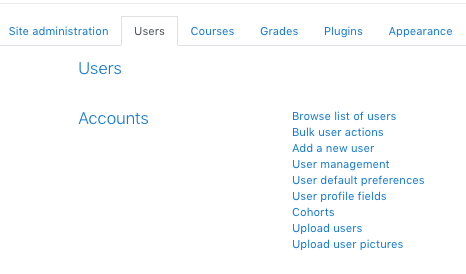 Fitur users yang biasanya digunakan antara lain :
Browse list of users, Melihat semua user yang ada dalam Moodle.
Add a new user, Menambah user baru.
User management, Membuat filter yang akan ditampilkan pada halaman "Browse list of users".
User default preferences, Pengaturan format tampilan informasi user, misalnya menampilkan alamat email, kursus yang diikuti, menambah kode HTML.
User profile fields, Menambah kolom khusus pada informasi user, kolom bisa berupa checkbox, tanggal, drop-down menu, text input.
Upload users, Membuat / menambah user masal dalam format .csv.
Upload user pictures, Upload gambar profile user dan guru.
Membuat User Moodle Manual
Klik menu Site Administration -> Klik Tabs Users -> Klik link Add a new user.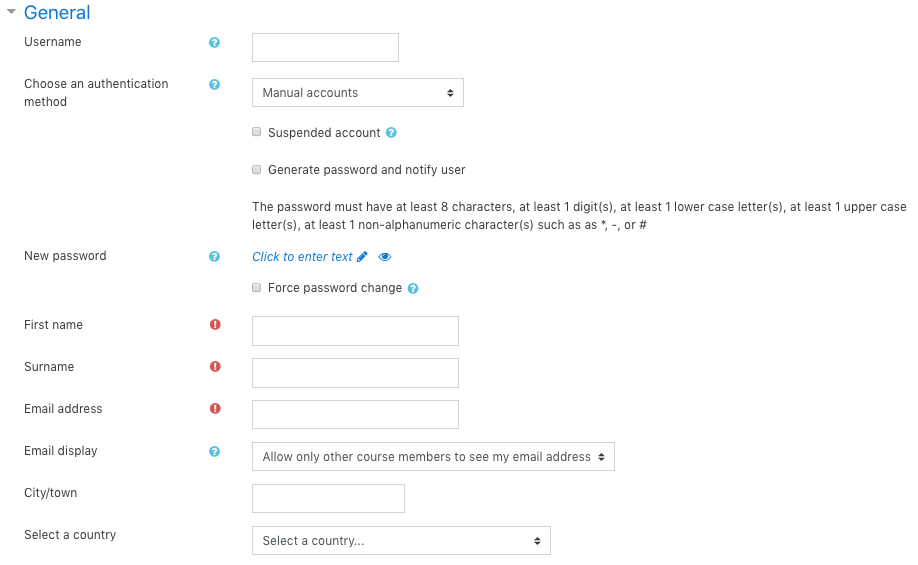 Lengkapi informasi User, setelah selesai pengaturan, klik tombol Create user.
Membuat Users Moodle Masal dengan MS. Excel File .CSV
Klik menu Site Administration -> Klik Tabs Users.
Buat sebuah file tabel di Microsoft Excel, nama fields atau kolom yang harus dibuat seperti dibawah ini :
Firstname
Lastname
Username
Password
Email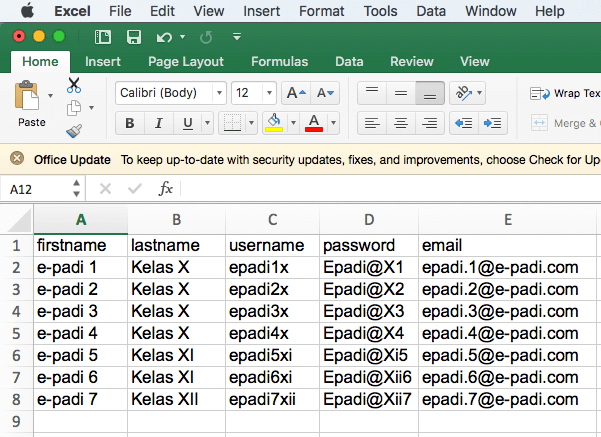 Simpan file tersebut dengan format *.CSV.
Klik link Upload users.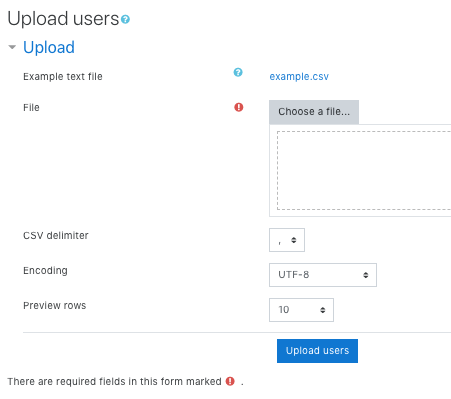 Klik tombol Choose a file.
Pilih nama file .CSV yang telah dibuat sebelumnya, kemudian klik tombol Upload users.